History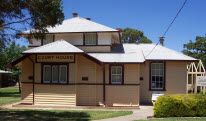 Located in the old Courthouse, 77 Oke Street Ouyen
Open each Friday, 9.30am - 4.00pm or by appointment.
Closed Public Holidays and Christmas
NOTE: When planning to visit the Centre it is recommended you contact the Centre to ensure volunteers are available to assist.
Established in 1984 as part of Victoria's 150th Celebrations, the Centre houses a collection of photographs, newspapers, books, maps, oral history, local records, genealogical records and ephemera relating to the southern part of the Mildura Rural City Council (formerly the Shire of Walpeup.)
Early townships in the area included Baring, Boinka, Bronzewing, Carina, Cowangie, Danyo, Galah, Gypsum, Kiamal, Linga, Murrayville, Nunga, Ouyen, Panitya, Tiega, Torrita (Nyang), Trinita, Tutye, Underbool and Walpeup.
The Centre is operated by volunteers, who can provide assistance with accessing the collection.
This is a voluntary organisation and donations will be gratefully accepted.
Research fees are $15.00 for the first hour of research and $10.00 for each additional hour.
Annual Membership $10.00

Member of:
Royal Historical Society of Victoria
Western Victorian Association of Historical Societies
Genealogical Society of Victoria

TO CONTACT US:

OUYEN DISTRICT HISTORY &
GENEALOGY CENTRE
PO BOX 131
OUYEN VIC 3490
PHONE: (03) 5092 1763
EMAIL: history@ouyen.vic.au
FACEBOOK: www.facebook.com/pages/Ouyen-District-History-Genealogy-Centre
References
Useful Sources of information on the history of the former Shire of Walpeup and the Victorian Mallee.
BLACKERS, M. AND MacMILLAN, L
Mallee conservation in Victoria. Melb., Royal Melbourne
Institute of Technology, 1988.

HENSHALL HANSEN ASSOCIATES
Study of small towns in Victoria. Rev. ed. Fitzroy, Vic, 1990.

KENYON, A.S.
The story of the Mallee; a history of the Victorian Mallee
read before the Historical Society of Victoria, 18 March 1912.
Reprinted by Wilkie & Co. Clayton, 1982.

LAND CONSERVATION COUNCIL OF VICTORIA
Report on the Mallee study area. Melb., LCC, 1974.

LAND CONSERVATION COUNCIL OF VICTORIA
Report on the Mallee study area. Melb., LCC, 1987

LINDNER, Jocelyn, comp.
Kow Plains and beyond, 1849-1988. [Cowangie], Cowangie
Tutye Boinka Back-to Commitee, 1988.
ISBN: 0-7316-4011- X

LINDNER, Jocelyn, comp.
Kow Plains revisited, 1849-2001. [Cowangie], Kow Plains
Homestead Commitee of Management, 2001.
ISBN: 0-9579336-0-6

LINDNER, Jocelyn, comp.
Murrayville 1910-2007.
A History of Murrayville & District.

TAYLOR, Phil
Karkarooc: A Mallee Shire History, 1896-1995.
Warracknabeal, Yarriambiack Shire Council, 1996.
ISBN: 0-646-27641-7
TORPEY, Doris
The Way It Was
A Collection of articles from the Argus newspaper from 1910-1948
The Sunnylands Press, 1986.
ISBN: 1- 86252-461-0
UNDERBOOL CENTENARY BOOK COMMITTEE
Embracing Our Mallee Heritage 1911-2011, A Centenary Celebration of Underbool & District
Mallee Printers
ISBN: 978-0-646-56240-7
Van VELHUISEN, Rhonda
Pipe dreams: a history of water supplying the Wimmera-Mallee.
Horsham, Wimmera Mallee Water, 2001.
WHO WERE THEY?
The naming of Ouyen's Streets and Parks, Compiled by Merle Pole
The Sunnyland Press, 2006
ISBN: 0-6464674-9-2

NEWSPAPERS:
The Ouyen Mail –(digitised on Trove 1915-1918)
Ouyen & North West Express –(digitized on Trove 1918)
Current Research
Research assistance can be provided on request.
Our research fee is $15.00 for the first hour and $10.00 per additional hour.

The Centenary book, 'Mallee Roots to Vanilla Slices' is now complete. The book launch took place at the Vanilla Slice Triumph, as part of Ouyen's Centenary celebrations in 2009. The Centenary Book Sub Commitee of Ouyen Inc. is fortunate to have had the services of writer Hugh Carroll, who spent his formative years in Ouyen, to assist with this project.

The Ouyen District History & Genealogy Centre would like to thank all those who have assisted in the publication of the Centenary book.
________________________________________________________________
Photos
The re-enactment of a 1914 Court Case, in October 2014, marked these two milestones:
the Centenary of the Ouyen Courthouse

30 years of volunteering 1984-2014